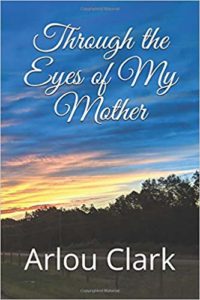 Through the Eyes of My Mother is a novel based on the life of a young lady named Blondie Jane. Growing up in rural North Carolina with her parents and six brothers. Blondie Jane suffers the loss of her father, and is forced to witness the hardships and struggles of her young widowed mother. It's a story about love, friendship, family and kindness from those the world would least expect. It's a story of fond childhood and teenage memories despite growing up in the Segregated South.  Through the Eyes of My Mother is available on amazon.com for $9.95 in paperback, and as an E-book on amazon.com for $2.99. Click the link at the bottom of this page to order.
About Author  Arlou Clark
Arlou Clark was born in rural North Carolina in 1969. She was raised by her parents during the 1970's in Chicago, Illinois. Mrs. Clark's family later moved to St. Louis, Missouri where she attended high school and college. Growing up Arlou spent her summer vacations and holidays in North Carolina. Arlou is happily married to her childhood friend from North Carolina, who happened to spend his summers throwing rocks and chasing Arlou and her playmates down dirt roads. Arlou and her husband have been married for over twenty-five years. They have three children. Arlou is the founding blogger of whyevewhy.com. She spends her time volunteering with an international organization that promotes brain safety, as well as supports those with traumatic brain injuries and brain disorders. Mrs. Clark enjoys writing, reading, cooking and spending quiet moments with God whenever she can find them. Through the Eyes of My Mother is her first novel.
https://www.amazon.com/dp/1792801815/ref=cm_sw_r_fa_dp_U_lxOmCbXZ1TRXB?fbclid=IwAR3Sf5HX_HEj4N5BjgxF-S5CNCvBjFuffHniywWDBIzqDucPvrTXeD0-f6Q