We have been preparing and stressing for days now. Hurricane Florence is beginning to bare down on the North Carolina and South Carolina Coastline. Winds and rain are marching towards us at a slow steady but deadly pace. Even though I am almost three hours away the fear of the strength, power and size of the storm still has me somewhat flustered.
The fear of flooding, tornadoes and loss of life. This storm is simply too big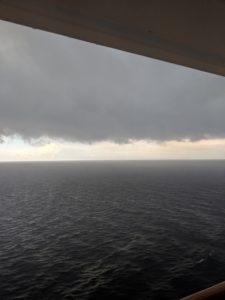 and I feel somewhat humbled by the helplessness we have against Mother Nature and God. This storm requires the grace and mercy of the Almighty God. I am just praying those that have decided to stay along the coast will actually miraculously survive. Florence is here and clearly there was honestly very little we could do to prepare. Unfortunately we  lack the power as humans to stop the storm.
As I have been preparing my home and family for the storm I have pondered the thought of my handling of my life's personal storms. I realized that I often struggle between handling storms like Noah and/ or Jonah. Sometimes I decide to be well informed and well prepared like Noah. Other times I feel like running and hiding and ignoring the warnings like Jonah. Do I stand tall and begin building my ark ignoring the snickering, judgement and criticism of others? Or do I tuck my tail between my legs and crawl into the comforts of my bed and ignore the storm warnings? Risking my loved ones peace, protection and leaving them vulnerable without warning?  Either way the storm is still coming.
Thanks be to God for technology and meteorologist men and women. In this day and age we are blessed to receive advanced storm warnings. I chose to take the path of Noah. I shall heed God's warnings and build a fortress with a storm in mind. This can only be achieved through praying and studying while meditating on the Word of God. Prayers are a mighty fortress indeed. They can build walls up and create bridges across the troubled waters. Prayers shall lead us all to safety. So tonight " Let us then approach God's throne of grace with confidence, so that we may receive mercy and find grace to help us in time of need."  Hebrews 4:16 NIV
I solicit your prayers tonight for all God's People in the path of this storm as we begin to endure the violence, strength and power of this major hurricane named Florence.
Blessings Upon Blessings