Heavenly Holding Pattern
Of all the days to desperately need some basic necessities, I would procrastinate until today. Not only is it cold outside, but rainy and dark as well. So after staring out the window for awhile I resolved to acknowledge that the grocery list would replenish itself. I had to go out into the nasty mess. So I grabbed my baseball cap, my rain jacket, a pair of earrings and my car keys and went out to dance with mother nature.
Often times I hop into my car and I pause a moment to determine what type of music my day and ride are calling for.  On days when my heart and soul are light, I go all in with hip hop or old skool R&B. But there are those days when I am either extremely focused or my heart and soul are somewhat heavy,for those times a gospel CD tends to be the perfect selection. So for this dreary day I made the decision to listen to Christian singer and  recording artist Anthony Evans.
As I backed out my driveway I quickly decided I would just skip a few ot the songs of whom which their lyrics were more familiar. I landed on one of my favorites titled "Ask." As I traveled the short distance to the grocery store I began singing along with my stereo system. The song basically tells you to ask and it will be given, seek and you will find, knock and the door will be open to you. Honestly the song sounds so simple yet as I drove once again the lyrics became so appropriate for the moment. 
I began asking God about a situation that for me simply has not been resolved. I am determined to be patient because I have talked to God about this situation so many times. So many times that often times it has left me in total frustration. Not the least bit angry but all the more anxious for an answer. Just longing for a sense of direction. I parked my car, grabbed my grocery list and walked into the store while being grateful for a lighter drizzle.
The entire time I was in the store I just seemed to go down the aisles that offered the most sugar. Maybe not for any of you but for me this often happens. I found myself constantly remembering things that we needed that were of course on the opposite side of the aisle in which I was visiting. Finally I made it through the checkout line and into the parking lot. Not even noticing that the rain had stopped for the moment. As I walked toward my car I noticed the familiar faces and we shouted greetings back and forth across the parking lot. I thought to myself as I popped the trunk, " You have such a witty sense of humor God. How appropriate it is that I would see those particular people at this particular time." I loaded my groceries as it began to drizzle again and returned my grocery cart.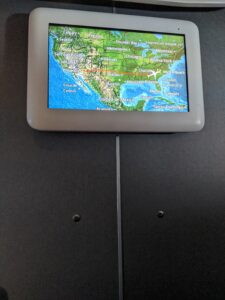 As I started my car my stereo picked up right where it left off and I continued my thoughts towards waiting on some much needed answers from God. I cherished the words from the song and tried so desperately to pin them all to my heart. I resolved to just wait again on God.
Well as I began to silently scream at myself for buying so many groceries when no one was home to help me carry them all into the house. As I stepped back onto my porch and headed for my car, I heard a rare, loud and very heavy yet familiar sound. I looked up  into the sky, but I couldn't see it for all the heavy clouds. I definitely knew the sound. Somewhere up above me a plane was apparently very close by. As I continued to unload my groceries I could still hear the sound of the plane and I found it at first odd. But then a scene from a few weeks ago flashed very vibrantly before my eyes. I remembered my husband and I's flight home a few weeks ago from California. I remembered a plane full of hundreds of people all tired of a long flight full of delays just ready to land and go home. The computer screen against the wall in front,  said we were over Charlotte but clearly we weren't landing because I am quite familiar with the preparatory sounds of a plane about to land on the ground. I noticed as the minutes ticked by, all we continued to hear was the constant humming sound of the huge engines outside. Yet the display still read we were over Charlotte but we were still not heading towards the ground. 
Then it hit me… the answer that I had been praying for from God was not yet revealed, but I now had the answer to why not. You see, just like a plane, sometimes the things we need, desire or want answers from God are not being withheld. It's just that sometimes where He is planning to land us is not ready for us at this particular time. Sometimes we have to wait for those preparing the place for us to finish their work on the ground. Sometimes those on the plane with us or traveling into the next season with us, whether it be the pilots of flight attendants, may not have their things in place yet for us to safely land on the ground.  If we land before they are ready, it could be a disaster for us in the air, as well as for those on the ground. Sometimes God puts us in a holding pattern, not necessarily for us, but for those around us and that lay before us. Everything must happen in His perfect time. Maybe some onboard our plane, destined for the next season aren't ready yet. They haven't put up their carts and secured their baggage for landing. Perhaps some on the ground in which we are destined to land, haven't yet set their ears to the frequency of God. Perhaps the air traffic controllers (angels) of our lives recognize that maybe someone destined to meet us in our new season is unfortunately lagging behind. In all things we must simply exercise patience, humbleness, focus and bring to our remembrance the beautiful yet awesome promises of God. 
So, as I wait for the final answer from God, I will graciously and humbly simply reply…" Yes, I am still trusting You God! I shall respectfully continue to wait in Your Heavenly Holding Pattern." There is no better place to be than in the Hands of the God Almighty. For the Bible clearly advises us that "But those that wait on the Lord, shall renew their strength; They shall mount up with wings like eagles, they shall run and not be weary, they shall walk and not faint." Isaiah 40:31 NKJV
Blessing Upon Blessings