In April I happened to be watching a church service livestream. During the church announcements they mentioned one of my favorite female speakers was going to be in North Charleston in July. I quickly wrote the date down and instantly became excited, because this would only be a 3 hour drive for me.  I mentioned it to my husband, and he quickly encouraged me to go.  He encouraged me so much he made me grab my laptop and purchase the ticket the exact same day.  He knows if I ponder over spending money and doing things, I will quickly talk myself out of going.  He in his usual charming way persuaded me that I definitely needed to go. He was so determined that I should go he went online a few weeks later and booked my hotel right next to the Charleston Coliseum because he had set a rate alert and noticed they were filling up fast and the prices were quickly soaring. I was fully committed and convinced I needed to go.
Well, fast forward to last week and of course my hesitation of traveling to a Women's Conference alone with approximately 7,000 strangers was not going unnoticed. I kept thinking ,this thing is 2 days, what on earth am I doing? Well my husband was as usual reading my mind and he kept saying, " Oh sweetheart we are definitely going. I am driving you myself to insure that you go." Well, Friday morning came and it seemed as if my husbands work phone would not stop ringing. I mean phone call after phone call. Honestly, that has never ever happened before. I noticed as I packed he kept putting out fires and answering the phone over and over. Finally, I sat down on the bed and said, " Honey we really don't have to go."He quickly replied "Nope you must go."  So, an hour or so later we were on the road.
The trip was quiet and the traffic was light, and things seem to simply flow. The phone had stopped ringing and the sun was a glow. Then 10 miles from our exit, the bottom fell out of the sky. We could no longer see the cars in front of us and we were in the farthest lane without anywhere to go. Instantly my phone's weather alerts started going off. If I remember correctly it simply said, " Expect torrential rain , sudden downpours with localized flooding." I thought to myself, " Oh my God why did I come?" Alas, we made it through to the hotel safely and I was suddenly emotionally drained and exhausted.
Upon entering the hotel lobby all we met were smiling faces of beautiful women of all different races. There was excitement in the air, as church groups were gathered in conversation all throughout the lobby. The front desk clerks were courteous, but advising the large groups that their rooms unfortunately were not ready. As we stood in the long line I thought, " Oh great….just what I need is a delay." Well, when we finally reached the counter, we were delighted to hear that our room was actually ready. Upstairs I went to grab a quick bite to eat and get refreshed and dressed. The hotel that my husband had chosen had a boardwalk that connected the property to the Charleston Coliseum.  The boardwalk took you approximately 2 blocks across a wooded marsh to the coliseum property. Well, unfortunately it was raining. My husband had planned to walk me over the boardwalk and come back for me that night. We knew it would be a nightmare for him to get on and off the coliseum property without parking. So I called down to the front desk to inquire about the shuttle because there was already heavy traffic in the area. They informed me to just come downstairs and the shuttle would be leaving every half hour. I was told no reservations were needed. They would drop me off and pick me back up at 9:30. I thought this was awesome, because I wouldn't have to drive by myself or pay for parking.
At 5:20 my husband walked me downstairs to catch the shuttle. The hotel lobby was jumping and buzzing. It was a sea of women, some dressed in the same colors, and others adorned in their churches t-shirts. I thought to myself, " I will never ever get over to the coliseum." I walked out to the shuttle and the driver informed me to wait in the lobby, because there were several groups ahead of me. I said, " Fine" and headed back in. Well, a few minutes later the driver got my husband's attention, and said he was ready to take me. Well I thought, "What about all these other ladies?" He stated they were still waiting for other people. I couldn't see inside the shuttle because it was wrapped in the hotel logo . Apparently you can see out but you can't see in the windows. Well, the driver opened the door and there sat one woman with the biggest smile I have ever seen. I said, "Hello are you waiting for the rest of your group to get in?" and she said, " No its just going to be me and you going." So, I went to sit in the next row and she said, " No! No! You are going to sit right beside me ,come on in here." So I smiled and got up into the van. The driver began to talk to us and asked where we were from. We both were from different parts of North Carolina. I quickly found out that she had flown in by herself and was traveling alone this weekend.
Upon turning into the coliseum property the driver let out a sigh. There were women wrapped all around the building. We had come 2 hours early and he had never ever seen so many people this early at the coliseum. He asked if we had the number to call for the shuttle at 9:30, and we exited the van. I asked the sweet lady her name and she said, "Mrs. E" and I told her my name.  We headed towards the end of the line and began talking with other women.  Upon entering the building we began looking for a seat and noticed the floor seats were mostly open. We were advised by an usher that it was general seating, and we were more than welcome to go down to lower level seating. I thought to myself what a blessing. Mrs. E and I talked for the next hour or so with all of the ladies around us. Some were taking selfies others were asking strangers to take pictures of them, and there was so much excitement. Thousands of ladies laughing and talking. It was honestly unlike anything I had ever seen.  An usher came around with small sheets of papers and encouraged everyone to complete them. It was a card with different categories of prayers.  So I filled out my card and they collected them. Well the lights went down and the conference began. Beautiful powerful songs of worship and lots of swaying and singing.
So, the speaker for the weekend comes up on stage and I mean she was really enjoying the worship groups singing. She started talking about the cards and stated that she wanted to deviate somewhat from the schedule, and go ahead and begin praying. She explained that a few in the worship band were needing prayer about direction and transition. She stated that God was really encouraging her to begin praying for them. Well, she asked if anyone in the audience had listed prayer for spiritual guidance to stand. Well, I didn't list that but I sure had been praying for that exact thing for the past 8 or so weeks. All of a sudden, I found myself on my feet. That was so not what I had put on my card. Mrs. E had quickly leaned over and whispered ," You need to be standing." Honestly, I don't remember getting to my feet. Well, the speaker asked everyone to look around and find someone near you that was standing and to go stand with them. Well, a  few ladies behind me and Mrs. E were quickly on each side of me. They were told to lay hands on me and to begin praying. Now how on earth Mrs. E knew exactly what was posted on my war room wall at home, I have absolutely no idea. She began praying and reading word for word what I had written and been praying for almost a year now. I honestly couldn't believe it. But when she stopped praying aloud the other one began praying, and she began speaking the exact same words to me that my husband had been saying to me weekly leading up to this event. I was stunned ,not scared but absolutely certifiably stunned. As my mouth hung open the tears began to flow, and I felt a comfort and peace that I had forgotten I had even known.
After the two women prayed the speaker began to pray for all of us standing and literally touched on every single point again. I didn't know whether to stand there continuing to cry or run. Well, as the prayers continued the speaker asked for the women that had requested prayers for their marriage to put their hand up.  Well, then she asked for those of us that had happy strong marriages that had endured some stuff to stand up. She then asked us to go to the nearest person with their hand up and pray with her for them. Well, I went 2 rows up because I needed to give back, because I had just been prayed for. I gently laid my hand upon the shoulders of a beautiful lady with extremely long blonde hair. She turned and smiled at me and at that moment her friends realized her hand was up. They all looked extremely shocked. Well they all grabbed hands and the one closest to her reached out to touch her. She had an entire row with her. When we all finished praying for her she had tears in her eyes and she turned and gave me the biggest hug. Well, I returned to my seat.  All of a sudden, I noticed there were shrieks coming from her row and everyone was looking at her phone. She quickly got up and came to where I sat and got down on her knees with her phone. She explained that while we were praying for her that her phone had begun vibrating at her foot in her purse. She showed the text from her husband.  It was very kind and thoughtful and it simply said " I hope you have lots of fun, you deserve it and I can't wait to see you tomorrow." I looked at her and she said, " He never texts me and he has never cared if I had any fun." She was crying and I was crying, Mrs. E was shouting "Praise God" and even the ladies on the row behind Mrs. E and I were suddenly crying. It was clear that there were prayers getting through to God above.
Mrs. E just patted me on the shoulder and smiled all night long. Well, upon exiting the coliseum we noticed the shuttle line had been overtaken by motor coach buses.  So, Mrs. E asked me if I knew about the boardwalk. I told her yes but I had no idea how to find it in the dark. She stated she had come over earlier during the day and found her way. She stated she didn't come that way earlier because it was wet and raining but since I was with her she felt comfortable going back that way because it was lighted.  I looked up the map of the coliseum and we found our way together to the boardwalk.  So, Mrs. E and I took the boardwalk back to the hotel along the lightened path. We talked and we walked and before we knew it we were back at the hotel.  We agreed to meet in the morning and use the boardwalk to return to the coliseum.
.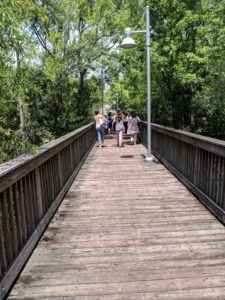 The next morning sure enough Mrs. E was sitting in the hotel restaurant finishing her breakfast. So I sat down with her. She had the biggest smile upon her face. Well, we headed out the door and across the boardwalk. She told me that she had not been able to sleep much last night, because God had her mind on me. She told me that she had been praying for me all night long. I thanked her for her prayers. Well, we sat down in the floor seats of the coliseum and Mrs. E was still smiling. She turned to me and she began to speak……..the things Mrs. E started telling me left me smiling and shaking. Mrs. E knew things about me that only my husband knows about me. I have not shared these things with anyone but him. Not even my children know that I possess these things.  For about 4  years I have dreamed and ponder over these things. Mrs. E could not know these things. She smiled the entire time and said to me, " You can smile at me all you want, but I know the look on your face, God has already written these things about you and for you, the time has come for you to stop playing. I have already made a few contacts and it's time for you to start getting things ready. I have agreed to stand in the gap praying for you during this transition. You are going to be fine and the next few months of your life will be drastically changing all for good." She smiled patted my knee and we enjoyed the rest of the convention.  At the end of the conference we were asked to grab a prayer card out of the many baskets and commit to pray for  that person for the next 7 days. So I reached down and grabbed 2 of them.
On the way back that afternoon as we crossed the boardwalk Mrs. E began telling me about the road that lies before me. She explained that it was no coincidence that only she and I ended up on that shuttle alone together. She explained that had all those other women gotten on the shuttle, we would never have spoken. She asked me if I noticed that when we got out of the shuttle the rain and stopped and had never again fallen. She drew the correlation between the boardwalk and my travels with God. Both had been well lit and I hadn't had to journey alone because there was always someone right there beside me. Someone leading me through the darkness of night along a path I had never ever traveled. Someone to walk with me through the daylight on the boardwalk well hidden, secluded and not often traveled. Mrs. E and I stood at the elevator and she turned to me and said " I have agreed to stand in the gap praying for you during this transition. I don't want you to worry.  You just get prepared and let me do all the praying and worrying. I will be in touch with you soon. Get prepared young lady you are about to be really busy."
Well, as I walked into the hotel room my husband could look at my face and tell something had again happened. When I told him of the events of the day he wasn't the least bit surprised. He quickly explained that the chaos of Friday morning was simply the enemy determined to keep me from traveling. He stated that he knew that it was imperative at that point that I make it to Charleston, because God had huge plans for me and the enemy wanted to stop me. He commented on how bad the rain had suddenly shown up as we got close to Charleston. Well, I sat on the bed and pulled the prayer cards from my purse. Sweet Jesus, one of the cards was from a mother who had written the same exact prayer on her card for her children…..I mean almost word for word…..She too has 3 children and wants the same things. I screamed and threw the card towards my husband and quietly exited to the bathroom. It was not until the door was closed that I allowed myself to look in the mirror and begin crying, because I realized that God had destined for me to come to Charleston. If I had not watched that livestream service that Sunday morning, I honestly wouldn't have known to even come. On our way home a wreck happened literally right in front of us and I quickly let the enemy know he had picked the wrong one. We would witness 3 more close calls of accidents before us before we returned safely home.
I left Charleston encouraged and renewed with a new friend with all the characteristics of my late grandmother. Mrs. E has a big smile, a quiet giggle and the gentle voice of wisdom of my namesake grandmother. All week leading up to this conference I had petitioned God for a new friend. I asked Him for someone that could see what I see almost daily. My life has already begun to change as a result of the weekend with Mrs. E, the Boardwalk and Me. Grateful to be reminded and reassured that God always walks the Boardwalk of Life with me and if He is busy He sends an angel like Mrs. E.
Blessings Upon Blessings