The Upper Room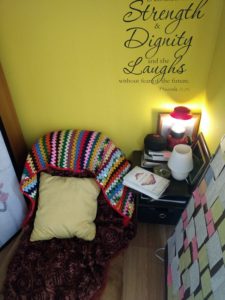 Over the past few weeks I have noticed a growing spirit of depression, grief and anger amongst my friends and loved ones. Honestly it's like nothing I have ever seen before. I know that the sometimes harsh and devastating news reports can weigh a person down. I also know that the political climate in our country right now is not for the faint at heart. Everywhere we turn there just seems to be death, anger, hatred and depression. This is so not the world that God envisioned for any of us. Alas we all know the stories found in the book of Genesis. Most of us have some idea of how sin was born. Unfortunately when Adam and Eve passed the baton of sin mankind grabbed it and took off running. So it is my friends that we live with so much hurt, hatred, frustration, evil, division and depression. Our God is merciful and it truly never was His intent for His Beloved Children.
When I was a child growing up in Chicago Mahalia Jackson was a famous gospel singer. You could drop in to any African American Church on Sunday and probably hear a song by Mahalia.
I was already familiar with her music because my grandmother and her sisters would sing one of those songs whether  riding  in the car, at Christmas dinner, while sitting at my great grandmother's house while holding vigil over her, while cleaning their houses, cooking dinner or even during a family reunion. One of Mrs. Jackson's songs was "In The Upper Room." Lord my great aunt Pansy was blessed with a voice that could sing all of Mahalia Jackson's song. When she and her sisters would talk about troubles, trial and tribulations often times they would just start singing that song. They always talked about the power of stealing away to God in the upper room. I was young, I just liked those songs. I had no idea what the lyrics to any of the songs meant. Thanks Be to God that now I know the meaning and importance of each and every song.
After watching the movie War Room with some of my friends I began to make a conscious effort to spend more time with God. Over Christmas Break of 2017 I desired a more deliberate quiet space in which I could perhaps spend time with God. I needed my own special closet but none was available to be had. So I kept praying and thinking and one day while watching TV with my spouse a corner of my dining area caught my eye. A few clicks online and a few shipments from Amazon and my prayer space was done. As I began to set up my prayer board, gather my books, invest in post it notes and light my candles I realized I needed music and some songs.
I went all across the music spectrum in search of passionate relatable songs. My first selection of songs included "Holy Holy Holy' by Donnie McClurkin, Vashawn Mitchell, Chicago Mass Choir, Hezekiah Walker, Yolanda Adams, William McDowell, Crystal Yates featuring Michah Tyler, Joshua Sherman and Charity Gayle, Kirk Franklin, Travis Greene and Tasha Cobbs Leonard. Yet I knew I was missing something. I just could not put my finger on it. Well in a few days I began to feel the movement of God. By the end of the first week  I felt His presence so strong that I would hate to be interrupted and  I never wanted to leave my little room. I was thanking God for things, begging for forgiveness for my thoughts and my mouth, and I was petitioning God on the behalf of friends , loved ones, enemies and people I didn't even know. All I needed was to hear about a need or read about a need on social media and out a new brightly colored sticky note would come. Within the second week I barely had room for a new one. I was hungry to spend time with God. I realized that even though I had been busy with church stuff and social stuff I truly was not experiencing the full presence of God. I must warn you now my friends………when you begin to truly spend quiet, intimate time with God be prepared for full blown worship. The tears begin to fall the hands begin to go up and the spirit of your Powerful Merciful Loving God begins to move all around. Peace begins to flow like a river. Thankfulness flows from your mouth. Blessings begin to rain down on those you have been lifting up and healing abounds all around town. You find yourself in such a content place that you finally realize that you can do all things through time well spent with a True and Living God.
So a few weeks in I was walking toward my special little room and Mahalia Jackson's song began to ring in my ears as I crossed my kitchen…………..
In the upper room with Jesus
Singing in tears blessed fears
Daily there my sins confessing
Beggin for his mercy sweet
Trusting his grace and power
Seeking help in loving prayers
It is this how I feel the spirit
And I sat with him and pray
Oh, he's in in the upper room
With Jesus
Oh, it's in the upper room
When my lord and your god
When he's in the upper room
Yes, he's in the upper room
Well he's in the upper room
Talking with the Lord
Oh my, Hallelujah, Lord
It was in that very moment that I realized what I had created. I had created that sacred space in which my Elders had song and talked about all those years ago. It had taken me this long to understand the importance of giving my mind and time to God instead of wasting it on the thoughts and ugliness of this world. I had totally retrained my mind to Him as opposed to the enemy. You know who I am talking about……that thing that gives us sad, ugly, hurtful, depressing and troubling thoughts. I had unknowingly made the choice to fix my thoughts on things other than this world for short periods of time.
Needless to say that after I got over the shock of it all…….Mrs. Mahalia Jackson made her way to the top of my playlist and her songs stay in my rotation. I make sure to listen to her often because you don't find that type of wisdom floating around anymore. So today I encourage all of you that are in dark places to create a space in your hearts and minds to spend sacred time with God. If you have a space within your home or office create a place for God. I am telling you it can be each morning or afternoon right at the steering wheel of your car. Spend more time talking to and thanking God and that enemy I mentioned will depart from you. You my friends and loved ones are simply giving him to much of your time. He came to kill, steal and destroy your peace of mind. Tell him his time is up and that you now from this moment on simply only have time for God! Fix your minds my friends. It's not about your hearts those are true, gentle and kind. You just need time in the Upper Room with God to heal and strengthen your minds.
Blessings Upon Blessings