Today I gave up the ghost of my "Mommy/First Responder Mobile"………It was a 1997 Ford Expedition. This truck never let me down. We drove it from 1998 until a few months ago. I sold hair products all across North Carolina, South Carolina and Georgia in it. I drove around in this truck for years with 2 booster seats and a car seat.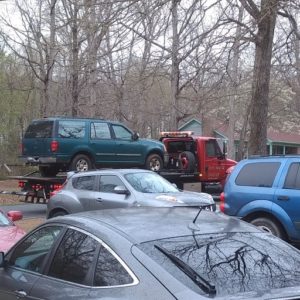 It was my PTO Mom vehicle. It was my husband's Coach Mobile that carried his equipment and team to and fro across our county. Basketball, T-ball, Coach Pitch, Little League Baseball and Football Seasons were spent in this truck. Children whose parents that would not or could not take them to and from practices and games traveled safely in this truck.  Not to mention the tons of snacks hauled in the back to stock the concessions stands at our local rec league park. Everyone in town knew this truck. If you passed by our local Elementary School chances were that you would see this truck. The world knew I was volunteering or tutoring that day because this truck was parked in the circle out front. Our yearly fun filled vacations to Chicago, St Louis, Florida and Myrtle Beach were taken in this truck.
Yet the truck was so much more than all of that. It was my Mission Mobile as well. I would take my Uncle E, that just so happened to be 6 foot 5 inches tall to and from the VA hospital in it. He suffered from COPD and Emphysema. I could place his huge oxygen tanks in it.  My Uncle E was a Vietnam Veteran that unfortunately had been exposed to Agent Orange and due to witnessing several of his platoon members being blown up by  grenades………he had taken his first cigarette in the bushes of Vietnam to calm his nerves and become addicted to cigarettes resulting in lots of health issues. If my Uncle would stop breathing the local fire department would respond to my grandmother's home and a call would be made for me. I would jump into this truck without hesitation, the truck would start and often times I would beat the ambulance there. After awhile my family began to call me First Responder and they swore my truck had secret hidden emergency vehicle lights embedded in it's grill. They swore that I had activated the secret lights and raced through town to often get to him. My grandmother had poor circulation in her legs as she grew older. She would eventually lose both of her legs. I would drive her to and from doctor visits, physical therapy and prosthesis fittings in this truck. We would laugh, eat, sing and pray together out loud all up and down the highways. I would heave her wheelchair into the back of it. How she and I got her into and out of this high vehicle sometimes on a daily basis I have no idea. Wait I do now realize how……. God's Grace was truly sufficient. I received lots of wisdom and was blessed with lots of gospel singing from my grandmother and her sisters while riding around in that truck.
Today in this moment I look back on how I came to own this truck. I was working in between having babies. I worked in the city and would race home to the country for my husband to get to work on his late shift job. Every single day traffic would back up for me in front of the Cadillac dealership. One day I glanced over to my right and saw a beautiful green Ford Expedition it was in immaculate condition. I would think to myself that is a very nice truck. As the weeks went on I began to see myself and my family in that truck. I began to think of how easy it would be to place my young children comfortably in the truck daily. No yelling about he or she touching me. No one would be kicking us in the back of our seats while driving, I could put all my groceries in the back and my back would no longer be killing me from  bending down securing everyone in their seats. I began to pray for the truck. I did not mention it to my husband at all. I felt the truck was too expensive for our budget and honestly I wasn't sure how long I would continue working because my oldest child would start school later on in the fall of the year. My husband and I had discussed me coming home fulltime when he started.
Honestly folks I prayed about and for that truck for at least 3 months every single day I traveled home from work. The strange thing was on my way into the city daily I never looked at the truck. One day the traffic simply stayed blocked for what seemed like forever. My mind said" well you are stuck here why not get a closer look at that beautiful truck." Finally when I could get up to the entrance to the dealership I turned in parked and walked over to the truck. I fell more in love with the truck. That particular day my husband was called into work early. My in-laws had graciously watched the children until I could get there to pick them up.  I mentioned the truck to them. My Mother-in- law suggested my Father- in- law go and look at the truck. We headed back up there and he inspected the truck. The salesperson knew my Father- in- law from church. I had absolutely no idea about that but apparently God did. The dealership really wanted to get rid of the truck because it was a Ford on a Cadillac lot and it had been there going on 3 months. So they agreed to reduce the price.  They told me to take it home and let my husband see it. I was scared to death. I wasn't driving that truck off the lot, my husband didn't even know about this truck. I quickly and loudly said nope! (Feeling the oncoming of a wavering of faith).  My Father- in- law calmly stated we would take the truck home and bring it back tomorrow. I was looking at him like he was crazy. Man we can't afford this truck! (Suddenly I had wavered in my faith).   We left the dealership and drove straight to my husband's job and called for him to come out. He instantly loved the truck. He asked about the price and asked if I really wanted it . I told him it was simply too expensive for our budget. He told me to take the truck on home and we would discuss it further in the morning. The next morning I told him to take it back and I grabbed his car and headed to work. I didn't need that truck. (Again I was wavering in my faith).  Needless to say by the time I got stuck in traffic that afternoon my car was on the dealership lot with a for sale sticker slapped on it's windshield. I almost had a panic attack because I had ordered him to take the truck back. ( Child were is your faith).
As I came out of the curve in my subdivision I saw the huge green truck sitting in my driveway and my husband and children standing in front of it grinning and waving.  I quickly began to fuss that we couldn't afford the truck. My husband calmly explained that because of our credit and his Dad's haggling, and great friends at the credit union, that the truck had been financed at a very low rate.  He  gently placed the keys  into my hands and said " you have never ever asked me for anything for yourself. Why can't you  just simply allow God and me to bless you with this beautiful truck? You know in your heart that we truly need this truck."………………………………………………Prayers had been answered just like that.
God had given me the desire of my heart! He had blessed me to do wonderful, fun, compassionate things all while traveling safely in this truck.  Thanks Be to God that we were never ever late with a payment on this truck. God knew He had plans for me to use the truck for good! He saw the needs that would be coming on down the road for my Beloved Family. I had enough FAITH to petition God all those years ago for something my family needed………… not so much wanted but truly needed. In this moment that the tow truck driver pulls away taking it  as a donation to the Kidney Foundation……… I realize that for all these years I had been Driving Around In FAITH. God had made sure I never broke down or was stranded in this truck. Today was the first day the truck had ever taken a ride on the back of a tow truck. Keep the Faith and God Shall Provide All Your Needs and as a bonus…… He will always secure and protect it for us. He already knew it would bless us. He had placed the truck before me daily in traffic. He just patiently waited for me to have the Courage and Faith to ask Him for it. Funny enough I never ever got stuck in traffic again in front of that dealership. Perhaps the traffic jams were simply set up for such a time for me to notice the beautiful green truck. Praying in Faith provides endless possibilities and blessings my friends. When God begins to answer the prayers don't be like me and then suddenly experience the wavering of your faith!  Pray in faith and Stay in faith! When God answers prayers things began to happen very quickly.  Don't ask in faith and then get scared when it's activated. I am sure that probably causes God a tad bit of stress! Are you living in a house received in faith? Driving in a car received in faith? Sitting behind a desk in a job received through faith? Perhaps you are living, walking, hearing, seeing or breathing in this moment because of your faith.
Blessings Upon Blessings