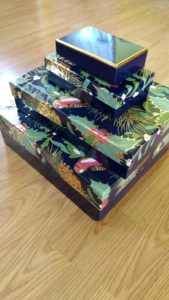 God Forgive Me For The Box
As I lay in my bed flipping through my social media account. I realized something. I have often questioned things even within the Bible. There have been times when people have been mistreated, beaten down and made to feel ashamed as a result of people pounding them over the head with the Bible. I have sat and watched the tears of an unwed mother made to feel horrible because of the conception of a child. I have watched gay people sit in church pews in tears and fear listening to a preacher preach the threat of hell's fire upon them. I have watched gifted women be told they can't speak in churches when they have clearly possessed an anointed Godly gift or talent. I have witnessed women destroy other women for their choice of abortion ……..sadly they did not realize that I knew that they had actually had an abortion. I see mothers and fathers on social media bashing one's right to abortion not realizing that some in this world know their secret of paying for their daughter's abortions. There are men that preach from the pulpit that have actually borrowed money from family members in their past to pay for a girlfriend's abortion. They believe their secrets are safe. If only we would all simply walk in our own truth. Our world would be so much better for it.
Sadly I remember my very own sins and I am humbled by God's forgiveness. By sins I mean times that I have done things wrong and been convicted by my own heart, soul and mind. To me those are actual sins. We know our actions are wrong but we do them anyway. God has granted all of us a spirit of discernment but we rarely use it. By discernment I mean the perception in the absence of judgment with a view to obtaining spiritual direction and understanding. What I mean is we know we are wrong before we even do it.
Honestly who are we to determine what a sin actually is? We are not God. We only know the Nature of God. His compassion, mercy, kindness, willingness to listen, willingness to bless, willingness to protect us and a willingness to convict us when we are wrong. Anything other than that we rely on the words of the Bible that were written by man. We must never trust any man or woman to lead us to the promise land. We must depend solely on God to let us all in. Do not get me wrong I feel that the Bible has some great guidelines in it…. but I feel it is up to each individual to seek their own personal guidance.
How could we ever honestly think we know all there is to know about God. God is prodigious. Meaning He is remarkably or impressively great in extent, size, or degree. All one needs to do is step outside and look up at the sky and see the greatest example of prodigious. Take a walk on the beach and attempt to find the end of the ocean. I dare you to attempt to count the waves as they come in. I triple dog dare you to attempt to count the grains of sand. Listen to me people God is bigger than we think.
Only a Massive God could ever create such diversity of races of men and women. Only a Huge God could create all the different plants and animals that dwell upon this land. Only an Immense God could have the power to allow us to breath as our hearts continue beating. Only a Mammoth God could supply so much mercy and forgiveness for all the wrong we do to each other fighting one another from day to day.
God has blessed me so many times I honestly am ashamed to admit it. I am not worthy of this vast amount of love, kindness, compassion and provision. God has protected and loved me more than sometimes my heart can stand. I know there is a God and as I write this blog I can feel Him. God wants us to recognize that He determines our sins. He knows the truth about us all. He wants us to love one another and to show compassion for one another. He wants us to take Him out of the box and use His example of love to  embrace every human being.
We know right from wrong. We are convicted within ourselves sometimes on a daily basis. We must learn to help, support and offer provisions to one another the same way God provides those things to us on a moment to moment basis. Why do we think people do not have a right to have all the blessings that we in the moment are having. We have jobs, homes, healthcare, love, fresh air, clean water, safe neighborhoods and free will to make our own choices. Take people out of your boxes and allow them to live. Whether you agree or disagree it is simply not your choice to make laws governing what people man nor woman can do with their bodies. You are not the maker of either so how about we let God govern that part of living.
God forgive me for the audacity to have ever placed you in a box inside my small mind. Forgive me for ever limiting you to the Bible. For this morning I realize that I have yet to climb out of my own box and experience the fullness and greatness of the Almighty God. Help me to take the lid off of my life God and climb right out of this box. God is bigger than we all think people. Why not chose today to take Him out and enjoy the fullness of God. I promise you will not regret it. Attempt to stop judging the lives of others and get busy enjoying yours. God is waiting for your attention. I sincerely believe He wants to bless you. Honestly what size box have you placed God in?
Blessings Upon Blessings