I was  sitting in the quiet of my living room tonight and I was drawn to the lights of my Christmas Tree. I took a moment to admire the ornaments that adorn my tree. I began to remind myself of the importance of a select few ornaments that stood staring back at me. I glanced down at the boxes of neatly wrapped gifts and I couldn't help but to reflect back to the kid in me. I thought of the joy that would come on Christmas morning when my family would discover the treasures under the tree. I found myself going back in time and remembering the wonderful scenes of Christmas past such emotional times for me.
I remembered the good ole days of traveling to Evergreen Plaza in Chicago and sitting on the lap of a Black Santa Claus. Dad felt it was important  for his children to see a black Santa Claus. You see on television a white Santa Claus was all we would ever see. Most malls and department stores had Santa Claus but he was always a different complexion than me. I was kid I didn't care what color he was. I just wanted to take a seat and rattle off my list of toys I expected  on Christmas Day under our tree. Looking back now I figure Daddy felt like " hey I am spending my hard earned money each year at least let the fake Santa Claus look a lot more like me." After all my Daddy was brown skinned and jolly he looked a lot like Santa Claus especially around the belly. ( Let's keep that part between you and me. I wouldn't want boulders from Heaven being thrown down on me.)
Every single year I read about new controversies concerning the celebration of Christmas , the origin and meaning of the Christmas Trees and of course those that wish to argue over the color of skin of Santa Claus all across our country. Humans seem to want to argue over the most trivial things. Christmas comes just once a year and I personally think that should be an off limits day for controversy and fighting. Why can't it simply be a day of sharing, caring, eating and napping with strangers, family and friends. Why can't we just celebrate the birth of Jesus Christ and his wonderful gift of Salvation for all who desire to seek and receive it. If you don't wish to accept such a gift that is perfectly fine with me. To each his own is my way of thinking. Why can't we just use it as a day of giving. No matter what you wish to call it. No matter what you wish to believe in.  Why not make it a special day to bring the gift of joy, happiness, compassion and unselfishness towards fellow human beings.
As I sat there a large bag with a Santa Claus plastered on front seemed to stare at me. Let me be clear before your minds wander…… I don't drink! The bag kind of got me to thinking. A scripture came to me " Now faith is the substance of things hoped for, the evidence of things not seen." (Hebrews 11:1 KJV) I thought to myself ….What If?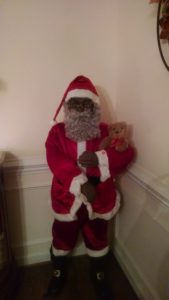 What if Santa Claus is merely a concrete illustration of the exercising of Faith? What if he was simply created as an elementary illustration of a bible school lesson for children on Faith? Children are taught to believe in Santa Claus and to wait with great excitement and anticipation for the desires of their hearts. They don't see him physically on Christmas morning but like clockwork every year gifts appear. Sometimes it's what we hoped for and at other times it simply isn't. Doesn't our Faith kind of work like that. We believe there is a God. We pray and fast believing that He will come through and give us the desires of our hearts. We can not physically put our hands on Him but we know when He has been in that hospital room, in the courtroom, in that operating room, in that wayward child's room, in that mailroom sending an unexpected check or in the heart of that neighbor, friend or family member moved to bless us with help, food, comfort, prayers or a listening ear.
Perhaps we all have missed the lesson that Santa Claus has attempted to teach. He wasn't really saying Ho Ho HO!!! Perhaps he has been actually saying ……..HOPE HOPE HOPE!! A misunderstood message for both you and me.
Blessings Upon Blessings