A Christmas Tree to Remember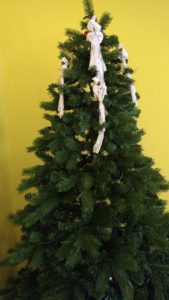 As we all get ready to celebrate the New Year perhaps we should pause and celebrate the Old Year. We look so forward to new things and new resolutions with great anticipation of what the New Year will bring.
Well as I began to take down my 2016 Christmas Tree something began to bother me. For a moment I stopped dismantling my tree and took a seat. The strangest and saddest feeling came over me. For the first time in my life I thought about the New Year in a different light. I thought to myself how next year might be different. How arrogant of me to take down this tree ornament by ornament with preparations forming in my mind of how I would unpack everything next year. I was thinking where to store things and how I would do things a little different on the tree next year. I would change this and that and even where I would place the tree next year. Like a ton of bricks reality hit me. Who says I will be here next year? Who says I will be able to see or hear or stand next year. A bold and audacious assumption had been made simply by taking down my Christmas Tree.
Here I was embracing a New Year when I wasn't yet finished with the old year yet. I had not stopped to thank God for bringing me and my family through 2016. I had not thanked God for better health in 2016. I had not thanked God for allowing me and my family another 12 months of bills paid and full stomachs. I had not even stopped to thank God for safe travel and no accidents in 2016. I had not even thanked God for allowing me to live in a country that had not experienced war in 2016. I had taken for granted lights, heat, air conditioning, water and a comfortable bed to sleep in all of 2016.
How dare me assume that all of those things mentioned would await me and my family again in 2017. Here I was embracing an unknown year 2017 and not truly realizing what might lay ahead for me and my family.. Perhaps 2016 might be safer.  Who knows the situation our country, or community or our economy will be in for 2017. How dare me look forward to a New Year without being truly grateful for what God has blessed me with in 2016.. In a moment my soul had been deeply convicted and I began to stare at the 4 angels that were left waiting a top my Christmas Tree. Waiting to be carefully wrapped and put away until next year with the other tree trimmings. I sincerely began to weep. My heart simply overflowed with gratefulness for a year in which me and my family had actually been blessed beyond anything we could ever imagine. Everyone in this house was still alive, healthy and blessed.
Suddenly I wasn't in such a hurry to take down the tree and clean up my mess. I thought to myself who knows in 2017 what angels will be selected to stand amongst the Lord's trees in Heaven. If I happens to be one, I just want to go on record as saying……..Christmas 2016 has truly been a blessing. 2016 was filled with millions of moments of wonderful heartbeats and lots and lots of unhindered deep breaths. Lord God Father In Heaven for the Old Year 2016 I am GRATEFUL. Sadly it took a quiet moment with four little angels and a partially dismantled Christmas Tree to make me REMEMBER!! In 2017 my friends let us all resolve to be more GRATEFUL.
Blessings Upon Blessings