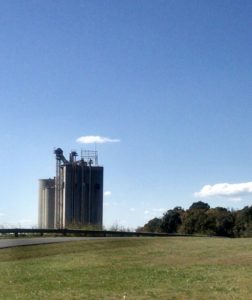 Earlier this week I was traveling in the car with my husband. Just as we were coming towards the railroad tracks the arms suddenly came down. Much to my hubby's dissatisfaction a very slow moving train was about to come through town. I mean it was just sputtering along. I sat there amused at how the typical Mr. Cool's blood pressure was quickly headed for a climb.
I turned to gaze out my passenger window and I noticed the concrete silos that sat across the field right before the entrance to our small rural town. I remember thinking to myself "man that thing has been here for such a long time." I began to try and remember a time that it wasn't present in our town. I quickly realized that it had been here in this exact place since I was a child.
I began to appreciate it's durability and it's enormous size. I began to imagine what could it possibly be holding on it's inside. I had to giggle a little because I recalled one day driving by the town silo with my kids. I remembered pausing for the train and listening to my teenage sons giggling about a childhood lie. My oldest son had told his younger siblings years ago that giant chocolate swiss rolls were stored inside. Oh the joys of childhood imaginations when going on country road rides.
I quickly came back to reality and realized the train was indeed slow and traffic was building quickly behind. For some reason I felt drawn back to the vision that lay to my right. The huge silos off to my side. For some reason on this particular day those silos seem to glisten and seemed so very bright. Those silos had been on earth as long as I had. I began to think about my soul and I imagined it as a silo. I began to think "oh through the years what on earth had I stored inside". Joys, pains, frustrations, anger, disappointments, judgements, love, fragments of scripture and most importantly a belief in God. I quickly thought to myself "Oh Dear Lord what is possibly buried that I might not remember that I perhaps had chosen to hide." I just sat in the stopped car staring across the field beginning to truly search what I may have inside.
Finally the train ended and we proceeded on our ride. As we drove down the rural winding roads the picture of the silo was still on my mind. I started to think of all the times I held things in my heart that probably were not pleasing to God. I started to think of the good things that were growing inside. Patience rather than sudden rage. Compassion for those mistreated because of their gender and race. Sudden calls to action when no one would take on a troubling situation. I begin to truly search my soul. I decide I would take some time to biblically search for some justification for some of the beliefs stored deep within my soul. So for the last few nights I have gone to bed earlier and taken the time to open my bible and ponder a few beliefs  that I held in my soul.
Well today I knew I had a meeting and knew several things would be discussed so I took a moment to consult with God. I said a quick prayer before entering the building and asked God to come in with me and for Him to help me maintain control. Well halfway through my meeting documents were handed out and low and behold it was the exact things I had be praying about all week long. As I read through the documents I became nauseated and my head began to swoon. A productive and lively conversation soon ensued. I tried desperately to control my tongue and control my eyes from performing their traditional roll. I listened and I prayed. I listened and I prayed. I asked a few questions for clarity and I finally let God take hold. I finished my meeting and people quickly disbursed and I gathered my notebook and boldly stepped forward. I spoke to the wonderful person in charge and I told her my dilemma. She listened passionately and took my hands. She understood and respected my position and she told me her own dilemma in this particular situation. I explained to her that my  God's Silo was too big for my head and heart to comprehend. I told her that I had been lead to Romans 2:1 "You, therefore, have no excuse, you who pass judgment on someone else, for at whatever point you judge another, you are condemning yourself, because you who pass judgment do the same things."( NIV ) I could not in good faith sign on for this journey because I needed to stay off of judgement lane and tend to my own Silo. After a couple of hugs and a few tears I was on my way. My heart seemed so much lighter in the end. I made sure to drive home right past the old silos and I thanked them for the precious gift of bringing me back to a spirit of discernment.  I ask you today my friends to take a moment when you get a chance……..take a deep long look into your own Silo because I think you will be surprised all that you are carrying around and what you can learn from it. If I am truly trying to help someone in need  judging them should be my last concern.
Blessings Upon Blessings