There is something special about rolling over in your bed early in the morning before the sun has taken it's place up high in the glorious sky. For some it can be an annoying time as we take a quick peek at the display of our alarm clock. For others it can be a reflective time. A rare moment of peace and tranquility. A time to stop and listen to your heart and mind as they seem to in a rare moment attempt to synchronize. A quiet dark moment to take some much needed deep breaths. A kind of "Peace Be Still" moment if you will.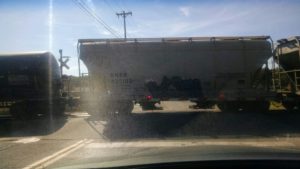 As I lay here in the dark quiet morning I can hear the train as it toots its horn through town.  I can actually hear the train cars rolling down the track. I focus to hear the train as it rolls off into the distance. I am suddenly reminded of an old Gospel song I have heard since I was a small child. I'm Going Home On The Morning Train goes somewhat like this……
Get right church and let's go home (you better get right church and let's go home)
Oh Oh Oh Get right church and let's go home
Oh Oh Ooh Get right church, get right church
Get right church and let's go home
(You know that) I'm goin' home on the morning train
Oh Oh Ooh I'm goin' home, I'm goin' home
I'm goin' home on the morning train
The evening train might be too late
I'm goin' home on the morning train
That Gospel hymn is often  used in a Gospel play called Glory Train. It depicts several church members who are traveling to a church convention. On their way there they are all unexpectedly killed at the same time. They all assume they are going to Heaven. The play opens with them all waiting at the train station to board the Glory Train. They all have their tickets in their hand about to board the train to Glory to be with God. There are several characters all with different personalities and beliefs of how and why they deserve to go to Heaven. They have interesting names like Sister Living Right, Sister Goody Good, Sister Slip Around, Sister Nosey and Sister Chance just to name a few. It's a powerful play that demonstrates that just because we label ourselves Christians  and have convinced ourselves that we are Christians doesn't necessarily mean we will actually make it to Heaven. In the play the conductor makes several stops and characters are deported from the train. He gives you the reason why you must step off the train before it actually makes it to Heaven. All characters are truly stunned because they have been bible carrying, scripture slapping folks and pew watching  for practically all their lives. They have honestly seen nothing wrong with living like that.
This morning in the darkness before the break of this glorious day I have felt compelled to evaluate my seat on the Glory Train. What exactly does God Himself think of me. Have I always done things pleasing in HIs sight…..Umm Nope. Have I always strived to do my best to lead others to Christ?……Umm I have tried but probably not hard enough………Have I shared with folks the goodness of God?……..Umm every chance I get……..Have I sometimes judged folks based on the Laws of the Bible?…….Umm unfortunately yes!!   (Between You and Me I think in the past I may have used it wrong)The last question has been working on my soul a lot in the past few years. I have been struggling with watching others around me using Biblical Law to justify the mistreatment of others. Picking specific scriptures to justify overlooking the feelings of others. Yet failing to emphasize  some of Jesus Christ's most powerful moments. Failing to realize the importance of the parables of Jesus' love and acceptance of those disregarded by others. Jesus had a powerful mission here on earth to illustrate to us the Awesome Abundance of God's Love for all of His Children. A message of Salvation in which Grace and Mercy graciously await to embrace all of us. We must only stop take a listen for God's Voice. Feast upon His Word and be granted the privilege of tasting and seeing what God has for You and Me.
I have come to the conclusion that my sole purpose in life is simply to share the Good News of Jesus. To encourage others to read their bibles so that they too might gather a better understanding. I have realized that the Bible is for our own personal interpretation of God's Word. It is God's responsibility  to convict us. By focusing on our own studying it leaves less time for judging others. This morning I am reassured that my soul's yearning to continue showing compassion and mercy towards others is key to me getting the Golden Ticket…….Perhaps one day I will be blessed to board the Glory Train and maybe just maybe I will manage to stay on the train until the last stop. The stop where streets are paved in gold and the rivers overflow with milk and honey. Perhaps I will once again get to see my Daddy and my Mommy. Perhaps someday I will be worthy to lay my head in the Bosom of God and dwell there with Him in Glory forever. For now I will embrace my early morning awakenings and constantly remind myself to work hard at doing the right things so that I might be blessed to ride the Train To Glory. Lord please grant me the wisdom and knowledge needed so that I will not miss Your Train to Glory.
Blessings Upon Blessings