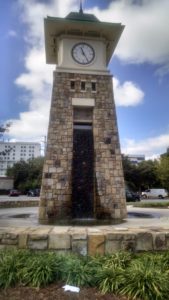 As a child I attended Sunday School every single Sunday morning. It was as natural and expected as weekly chores. What I mean is that it was something you knew you participated in because there was never a choice. We rose early and we ate breakfast without a television on.  Your clothes had been ironed and your shoes shined the night before. Your dress was hanging neatly on your bedroom door. Your parents only crossed the threshold of your bedroom one time to announce it was time to get up and begin the rituals of a Blessed Sunday Morning.
I honestly do not think one realizes what they have learned as a child in Sunday School for quite a long while. It's not until we become teenagers and we grow into a spirit of conviction. It's the very moment when we choose right or wrong. As a teenager I often chose wrong.
For some reason our consciousness  of going to Heaven or Hell has yet to bloom during adolescent times. We are living in the moment and caring  less about tomorrow. We are free to live life to the fullest and salvation can wait until another time.
Typically it is not until sickness, death of a loved one or other challenges within our early adult life that we begin to truly foster a relationship with God. We are fully aware that He is there just waiting for us to pay some attention to Him. We  assume God is real because we were taught about Him in our early days of Sunday School. We take for granted the story of Jesus because we only relate it to our Church Christmas plays. We associate Him with Santa Claus and Christmas gifts. For some they are simply characters in a book.
Some of us throughout childhood have a greater awareness of God and His Son Jesus. We tend to grow up with a slight conviction of some day having to answer for the hidden secrets not yet uncovered by our parents.
As for me I have always known God was real because I could feel Him all around me. I had witnessed the things He had miraculously done in my life. I had benefited from His twins grace and mercy more than once.
But not until……. I sat at the bedside of several dying loved ones  as they transitioned did I really get the tangible truth that Heaven is REAL. To watch someone begin to talk to persons I was unable to see. To watch the light of grace show upon a dying loved ones face. To sit in awe as they reach up towards the Heavens with a passionate smile upon their face. To watch their eyes dart from side to side as deceased loved ones that I can't visibly see begin to surround their sick beds. That is when the TRUTH is graciously revealed that there is a True Heaven and God will take you there. It's a rare time that human beings are allowed to witness the Spiritual Realm. It's a time to remain still and very quiet. It is a priceless VIP Seat  to witness the Glory of God Revealed.
God and Heaven are REAL my friends. My late Grandmother two days before we even realized she was dying proved it. She sat quietly in her wheelchair and gave me specific orders. She advised me who would come and what I should do. I without hesitation asked her where she had gotten this information. She calmly replied as she stared at the TV  " the Lord was here last night and He is coming back  soon for me." I admit I was a little shocked but curious at the same time. So I pushed her further and asked her jokingly " where do you think you are going?" She just giggled and gave me a quick sharp stare. " I am going to Heaven honey. The Lord has shown me the road and all I have to do is take a step up on to the road and walk on there . God is gonna meet me there." I must admit I was very curious then. I mustered up the courage to go further and I said " Grandma you don't have legs how are you suppose to walk there?" She just patted her hand on her knee and turned and smiled at me. " In Heaven Child, God already has new legs for me."
It was after that conversation that I learned to pay attention to what was constantly going on around me. Four years later I would witness God's Glory again as my Mother transitioned to Heaven right before me. She spent her last week in peace. Quietly crying and silently but visibly  talking to people unseen. Occasionally there would be a wave. Often times there were big smiles. Sometimes she would point and let out an AWWW. It was another reminder that Heaven is  REAL and God will be waiting. We seem to have entered a season of death and it relentlessly seems to be all around. I write this blog this week my friends to encourage you and bring you some reassurance that ……No matter what we will face in the days ahead. Please my friends realize that our time is not long but if we continue to pray, trust and believe in God………when our earthly clocks or our loved one's earthly clock expires …….we are truly going to find that Our God will be WAITING THERE!! Our Sunday School lessons were not in vain my friends! HE is really THERE!!
Blessings Upon Blessings